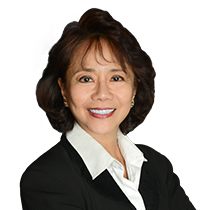 Josephine has been an expert realtor in Southern California for 20 years. Josephine specializes in Walnut, Diamond Bar Rowland Heights Chino, Chino Hills, Eastvale, Corona areas. Josephine is a Certified Short Sale Specialist. She is also a ReMax 100k Club awardee.
There are some people whose name just seems to fit them. Josephine Go Lim is one of them.  With her upbeat attitude and unquenchable drive, Josephine is one local businesswoman whose middle name suits her to a "T". Helping the people she cares about get the most out of life is what truly makes her "go".
Making Her Mark: Many would consider the prospect of moving to another country to start a new life on their own extremely daunting, but not Josephine. Moving to America excited this energetic individual and with her father's encouragement, pushed her to break out of her comfort zone.  Infuse with a renewed sense of independence, she challenged herself to go the distance to make her dreams happen.
A Giving Philosophy: For Josephine, success in life is defined by giving more to others than what you have. It's an approach that is clearly apparent in her role as a devoted mother of three, but also as a highly successful professional. Josephine has earned a stellar reputation in the local dental industry, putting patients at ease with her warm smile and cheerful attitude. To relax, she enjoys working out at the gym and loves playing video games or going bowling with her kids.
---
Contact Details
Mobile : 909-569-8363
Fax : 909-614-8182
---
Send a Message